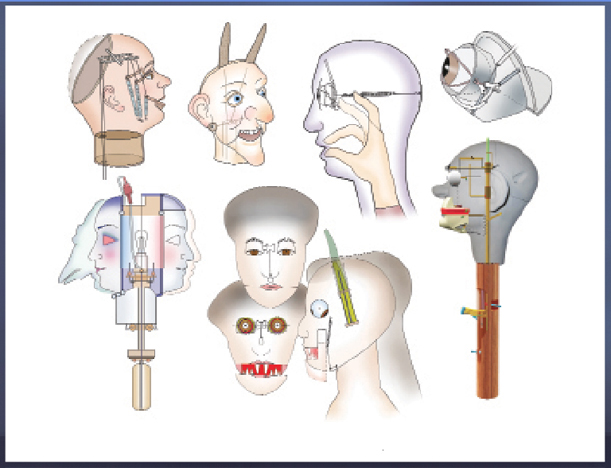 Mechanical movement -- moving sculpture -- is that magical place where art and technology meet. The science of movement can make a three-dimensional piece come alive in fascinating ways. Everywhere in the world, interest in moving sculpture is growing. In books, movies, exhibitions of all kinds, figures that imitate life, or are more "alive" than life itself have seized the public's interest. But there is little available to really teach mechanical movement, in depth, to those who long to learn about it.
Figures in the Fourth Dimension remedies this situation. Six years in the making, it is an art book, full of beautiful images. But it is a book which also informs; makes it possible to start creating artworks, rather than merely admire them. It is packed with information. Over a thousand superior quality photographs of hundreds of artworks show the finished pieces and their many mechanical parts. Hundreds of carefully executed technical drawings show in detail how they function.
The first section of the book, the Basics, introduces the parts and devices used in building mechanicals. The next section, on Workspaces, Tools and Supplies suggests ways to set up and equip a place to build them. The chapters that follow focus on the works of over thirty different artists — puppeteers and automatists, many of them world-famous. Included also are pieces from three major museums. The art works in these chapters are carefully illustrated, diagrammed and explained.
In these pages appears a huge variety of work, from simple to complex; work in many media, work in many styles, done according to different traditions, at different times in history. The one uniting feature is that all of it is about movement — beautiful and imaginative, done with consummate skill, great resourcefulness, and love of the art.
On the front cover, left-hand figure is Paul Spooner's Untitled, a nude woman with multiple dramas playing out inside her body. Right-hand figure is the Goddess of Heaven, a Bunraku-style puppet by Ellen Rixford.
On the back cover, a series of mechanical heads and faces, samples of the many technical drawings you will find in this book. Clockwise from upper left: Gustave Vichy's head of a French Peasant, showing eye blinks and flexible lower lip. Rixford Studio's Judy, with hinged jaw and horns. Rixford Studio's all-directional rolling eyeballs with blinkers. Jim Kroupa's eye-roll and blinker assembly. Dan Lavender's ventriloquist figure head mechanism with control stick. Japanese Bunraku puppet Kiyohime, a pretty maiden transformed into a monster by a dropping lower face section, and reversing eyeballs. Ellen Rixford's Goddess of Heaven, a double-faced puppet with interior light and masks.
Figures in the Fourth Dimension has been purchased in over thirty countries, including:  The United States, the United Kingdom (England and Scotland), Ireland, Canada, Australia, New Zealand, France, Belgium, Germany, Spain, Italy, The Netherlands, Switzerland, Norway, Sweden, Finland, Iceland, Czechoslovakia, South Africa, Israel, Turkey, Iran, Saudia Arabia, Brazil, Argentina, Japan, Taiwan, Hong Kong, South Korea and The Virgin Islands.
Figures in the Fourth Dimension was printed in a limited edition. Many have already been sold to libraries, galleries, museums, academic institutions and individuals.
Among university and art college libraries which have purchased the book are:
Harvard University Library….two copies, one for the Animation Department, one for the Main Library
Massachusetts Institute of Technology
Columbia University
Brown University
Mount Holyoke College
New Hampshire College Library
William Morris Hunt Memorial Library, Museum of Fine Arts, Boston
The National Puppetry Archive, UK
University of Connecticut, and it is sold in the University bookstore
Fashion Institute of Technology, New York City NY
Ladd Library, Bates College, Lewiston ME
The Morris Museum Library (This museum is famous for its huge antique automaton collection) the Musuem  also sells it in the book shop....
The Library of the University of the Arts, Philadelphia, PA
Memorial Library, Madison WI
Cooper Union School of Art Library
Theatre and Film Dept Bowling Green State University OH
East Carolina University, Joyner Library
Franklin Institute, Philadelphia PA
Royal Holloway University of Leeds England UK
The Royal Welsh College of Music and Drama UK
Bedford Library, Egham, Surray UK
National Cheng Kung University, Tainan City, Taiwan.
Keiyo University, Japan
Book Reviews
Figures in the Fourth Dimension
, Mechanical Movement for Puppets and Automata
Author: Ellen S. Rixford
New York, 2015
This book is entirely self-published
512 pages, over 1500 color illustrations
ISBN: 978-0-578-15865-5
ARLIS-NA Review by Margaret English, Department of Art Librarian, University ofToronto margaret.english@utoronto.ca Reviewed March 2016 www.arlisna.org/publications/reviews
This beautiful self-published volume successfully embraces a vast amount of practical information, beautiful photographs, and technical diagrams related to the design of puppets and automata.
Interest in this field is growing, yet literature usually comes in the form of small simple project booklets, the occasional auction catalog containing works from "the Golden Age" of automata, or exhibition catalogs showing puppet-related exhibition catalogs of works by avant-garde artists from the early twentieth century (Exter, Tauber-Arp, Depero, Calder, Klee, etc.). No one publication has attempted to explain the mechanisms of animated works of art — from basic physics principles such as cranks and levers to masterful — until now. Ellen Rixford's book provides an exhaustive overview of works from the ingenious clockwork pieces from the eighteenth and nineteenth centuries to that of present day master puppeteers and automata artists. Astoundingly, the mechanics of the hundreds of artworks featured is provided in over a thousand clear technical illustrations or photographs that rarely need a written explanation. Indeed, the author intended this book to be more visual than verbal and she presents "glory shots" of technical diagrams that are self- explanatory. Understanding her limitations and the vastness of the growing field, the author does not cover advanced electronics, computer technology, and code writing. Over the course of 512 pages, the reader is gently guided from basic physics principles and necessary tools for simple movements to in- depth explanations of some of the most famous eighteenth- and nineteenth-century works that are found in museums. As if designed for students and artists, the thick landscape-formatted book remains in case hands are busy creating in the workshop. A comprehensive selection of automata by many of the world's best contemporary artists displays a wide variety of aesthetics and provides inspiration to the aspirational builder and eye candy for the appreciative viewer.
The publication includes an annotated book list separated into five helpful categories as well as a thorough guide to websites and videos. It also has its own web page www.figuresinthefourthdimension.com that provides a good summation of each chapter, but the information motherlode is the thorough and up-to-date "e-bibliography" that should be bookmarked in the online library guides of any art instructions offering sculpture studio courses. That said, this near-encyclopedic volume is highly recommended for school and public libraries as well as those in art colleges and academic institutions.
Jeremie Ryder Conservator of the Guinness Collection Morris Museum 6 Normandy Heights Rd. Morristown, NJ. 07960 Tel.-973-971-3724 E: jryder@morrismuseum.org www.morrismuseum.org
An artist herself, author Ellen Rixford fills a void for solid information that could answer the questions that a curious student, technician, craftsperson or artist may have regarding the mysterious inner workings of animated puppetry and automata…. With this book the author peels back the layers of each object in order to dissect the mechanisms in a most thorough and descriptive manner. Exhaustive descriptions, detailed photographs and illustrations reveal how each cam, lever & linkage creates the animations in these sculptural kinetic artworks. Contributors to this technical reference work include some of the top contemporary artists from around the world specializing in the design & fabrication of puppets, marionettes, ventriloquist figures, lightwire puppets, hand-driven, coin-operated and clockwork driven automata...An even inspirational – 'tour de force'.
Ruth Lingford, Senior Lecturer in Animation and Chairperson of the Animation Department, Harvard University Harvard Animation Dept Ruth Lingford
Unique in its field, Ellen Rixford's book Figures in the Fourth Dimension is a truly sumptuous collection of alluring photographs, limpid text and illuminating diagrams which should intrigue the newcomer to the field, inspire the beginner and provide a useful manual to the practicing model maker. Rixford has collated a wonderful collection of artists from the early masters to contemporary experimenters. The work shown encompasses humor, beauty, politics, surrealism and abstraction. This is a small and specialized area, but Rixford opens it up to us to reveal an amazing wealth of diverse approaches. The artists featured have been impressively generous in offering up their secrets in a very accessible form. Starting from basic mechanical principles, Rixford leads us gently into the practice of making moving models. Always practical, she leads us through the tools and materials, before allowing the specific artists featured to exemplify a huge range of techniques. For anyone interested in building their own moving models, this book is absolutely essential. But it is also absorbing for the non-practical admirer of these models – the virtuoso makers showcased here are so varied and impressive that the book offers hours of enjoyment to those too technically challenged to pick up a screwdriver.
Paul Zaloom, internationally known satirist, played Beckman in the TV show Beckman's World, and has written, designed and performed eleven full length one-man shows, including Fruit of Zaloom, Sick but True, Mighty Nice, and the Mother of all Enemies. His work tackles social issues such as privacy, terrorism, racism, and sexism. http://www.zaloom.com, and https://en.wikipedia.org/wiki/Paul_Zaloom
Anyone in the world who is interested in puppetry and automata must have this essential resource at their fingertips. Puppet and automaton makers of all kinds will greatly benefit from the remarkably detailed illustrations and comprehensive descriptions of how various mechanisms work. Richly illustrated and excellently annotated, this beautiful volume will change the world of the mechanical performing object forever, and for this, all of us puppet artists and automata makers are greatly indebted to the brilliant Ellen Rixford and her astounding work.
Jim Kroupa, specialist creating mechanisms and special effects for a variety of commercials, TV programs, and films. He is the go-to puppet builder for Henson, Disney, and many others. Credits include the Muppets, Woody Allen's film Alice, the film Little Monsters, Eureeka's Castle, No Strings International, and many others http://www.nostrings.org.uk/puppet/jim-kroupa
Ellen Rixford's book is a once in a lifetime chance to learn everything you need to know about puppet and automaton mechanisms, and then some! Page after photograph after detailed drawing of pure inspiration. There'll never be another book like it! Heck, I'd get this book even if I weren't in it !! I think you have a hit on your hands! People would be CRAZY not to purchase a copy (or two!).
Falk Keuten, Noted German blogger ( Spiel und Kunst mitt Mechanik) on automata, puppets and related subjects, well known in Europe, the UK and the US spielundkunstmitmecha.apps-1and1.net
Figures in the Fourth Dimension

is a serious book. Containing the work of over 30 noted artists and contributions from 3 major museums, it weighs in at 512 pages, all in color. Over 1500 beautiful photos, and clear detailed technical drawings make this book the most informative book on mechanical movement I have ever seen. It also offers much information on puppet and automaton head and body construction, as well as information about tools and materials. The book is an excellent source for both beginners and practiced craftspeople, for sculptors, doll makers, puppeteers and automaton builders, and for everyone else interested in this fascinating subject. So the book is an art book and a technical book both….a reference work.
Michael Croft, Professor Emeritus, University of Arizona, and noted lecturer and collector of automata of all kinds http://www.contemporaryautomata.com
Figures in the Fourth Dimension

, Ellen Rixford sets herself a seemingly impossible task. A combination of beauty and science; the esthetic and the practical. Its 512 full-color pages are replete with lush photographs of the works of both contemporary and historical pieces from a host of makers. There are meticulously rendered diagrams with detailed and clear descriptions of how the mechanisms work. There are mini-biographies, instructions about setting up a studio and where to get materials, a whole chapter on the basics of mechanics, as well as detailed explanations of the pieces themselves.
Michael Start is a Horologist and Automatist. He runs 'The House of Automata' in Scotland, an internationally known center for automaton building and repair. Michael was the consultant for Scorse's automata film 'Hugo' which is based on Maillardet's writer automaton. www.thehouseofautomata.com
What Ellen Rixford's

Figures in the Fourth Dimension

gives you… is the ability to progress without endless experiment as you bring your creation inexorably to life. [It is]… essentially 'how to' book…. The contents are a compilation of contributions from many of the world's artists and experts in moving figures….The author, being an accomplished mechanic herself realizes the effort needed to explain the complexities of mechanism that works in three dimensions and her method has been to combine the photographs and drawings of mechanisms with carefully drawn plans….Ellen Rixford has possibly for the first time in any book of this type managed to give us all the information needed for many of these automata. The subject covered by the book is vast…. Across the disciplines of Puppetry and Automata there is a wealth of good work out there. Artists who are advancing mechanical movement beyond historical achievement and this book has brought the best of them together in one place and made them talk! The author's passion for artistry runs throughout in the beautiful photography and the inclusion of avante garde mechanical sculpture alongside the simple mechanical representations of life. It is this passion that comes through page after page and there is no doubting that many new artists and craftsmen will read it and and bring to life objects they could only have dreamed of.
Jan Zalud, noted British automaton builder and puppeteer whose work is in collections worldwide, and whose puppets have appeared in numerous theatrical productions http://www.janzalud.co.uk
WOW! What a fantastic thing to receive. I feel very proud and humble to be a part of it. From my first journey in, it feels as if almost every aspect has been detailed and in a fantastic way. I shall look forward to digesting its manifold gems over quite some time and I am sure it will come to my aid when I'm stuck on something.
Wayne Martin, professional puppeteer http://www.waynemartinpuppets.com/index2.html
Wish it had existed when I began in this business fifty-years ago as it would have saved me a lot of time and frustration!
Phillip Huber, world famous marionettist, whose marionettes have delighted hundred of thousands at venues all over the world, and whose performance in the film Being John Malkovich, a major box office success, introduced marionettes to a whole new generation http://www.hubermarionettes.com
It is a gorgeous book! You have done a masterful job with what must have been a leviathan task. I am so proud to be included in this great collection of artists. Thank you again for the your excellent work in diagramming and displaying my marionettes.
Corbin Popp, partner with Ian Carney in Corbian Arts, groundbreaking puppet troupe, the first to use lightwire technology in performance http://lightwiretheater.com
I love it. I am learning so much, I'm so proud and thankful. Great work, I will keep reading. Ian was blown away too. THANKS!
Paul Spiegel, attorney and art enthusiast.
If I had come across this book in a bookstore, and didn't know it was your work, I would have assumed it involved a supervising artist, a supervising engineer, professional photographers, various staff persons, and a publisher. How you managed to do all of this on your own without suffering a nervous collapse is beyond me. As a work of art it serves as a beautiful miniature art gallery. I hope and trust that the libraries of Westport and neighboring towns will feature this book as the creative accomplishment of one of their own.
Marcia Schultz, artist and puppeteer
The book is fabulous. I have no words to tell you how impressive this book is. You are filling a huge hole in the doll and sculpture world....I am truly speechless.